We have been studying Spanish as a family for about 7 years now. We enjoyed the various programs that we have tried, but have not found that we have gained proficiency or a real grasp of how to communicate the language effectively. I am always looking for new programs to try out. Our newest endeavor was sent to us by
Foreign Languages for Kids by Kids
. They sent us the
Stater Set 1
for their Spanish Program to review.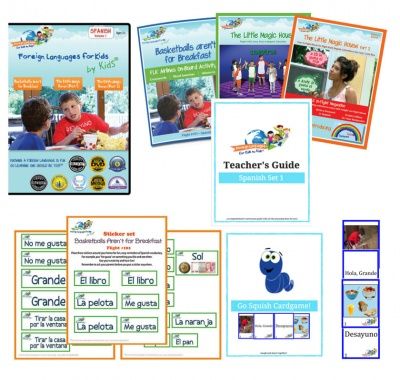 The set includes the following materials for Levels 1-3:
Video DVD-The DVD contains the first three videos for levels 1-3: Basketballs Aren't for Breakfast, The Little Magic House Part I, and The Little Magic House Part II. Each of these videos are set up as flights to other countries. Flight 101 (level 1) takes children to Lima, Peru; Flight 102 goes to Columbia; and Flight 103 takes children to Costa Rico Each segment contains children in everyday situations (sort of, the kids live in a tree house that converts into a full scale house when they walk inside) and introduces them to conversation in those situations.
Guide for Teachers and Parents-Each level has its own comprehensive curriculum guide. These guides include a How to Get Started section, lesson plans with viewing schedule, vocabulary, and activities, extended learning activities, an image of Squisher, the international inchworm, and a certificate of completion.
Flashcard Sets- Each level has its one color coded set of flashcards. The flashcards have both cards with pictures and others with words.
Card Game Directions to Go Squish-Children use the flashcards to play Go Squish. The guide explains the object of the game, how to set it up, rules, and instructions. The goal is to earn enough matches (picture card to its word card) to get Squish a plane ticket to visit his friend. Children choose a county and determine how many miles it takes to get there. Then children try to make the matches and get to be the first to send squish on his trip.
Workbooks (one for each level)-Each level has a separate workbook that goes along with the video and is designed for grades 3 and up. They are the in-flight magazines for the airline. They include word/picture matches, crosswords, picture find, grammar pages, questions, word scrambles, codes, word searches, conversation pages, label pictures, geography information, food, places of interest, regional animals, idiom practice, and answer keys.
Labeling Sticker Set-Sticker sets are designed to stick to household items, so that children can see the Spanish word on the items and become familiar with the spellings.
We decided to do 3-4 lessons a week and include some of the extended activities. In this way, we were able to complete all 11 lessons for level 1: Basketballs aren't for Breakfast and many of the extended activities.
I began to read the Guide for Teachers and Parents. From there, the kids started lesson 1. Nearly every lesson begins with children watching a segment from the video. Then they use the flashcards and/or the workbook to follow up the video.
Some of the things the kids did were work on the workbook pages, labeled things with the sticker set,
played Go Squish,
and played duck, duck, goose: FLK! Style.
Once the kids finished all 11 lessons, we did some of the extended activities. We looked up pictures of the flap for Peru,
and they made them,
and we cooked a Peruvian food.
Ceesa reports that her favorite part of the program was playing Go Squish. Jo-Jo says that she had fun making and eating the Peruvian food. Li really enjoyed the video and would run around yelling desayuno (breakfast) after watching it for several hours.
Our plan is to continue with Flight 102 when the school year starts in a couple of weeks. We'd recommend this starter set for those beginning Spanish and especially think that children ages 8-12 would enjoy it the most. Although we did have kiddoes under and over that range use it too with success.
Wishing you homeschool blessings,
Click here
to read more reviews from Schoolhouse Review Crew.