Rosie's Doll Clothes Patterns gave us lifetime access to Learn How to Make Doll Clothes Video Course with 8 Free Doll Clothes Patterns (currently $37.00) designed for ages 8 and up to review.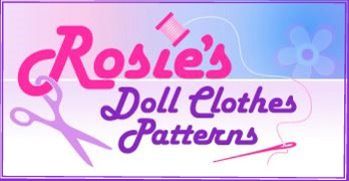 About the Video Course
In this course, there are over
130 video tutorials available online (or as a DVD) set up as a 6 week course. Videos include instruction,
tips, shortcuts, and techniques. Each video is designed so the step-by-step method can clearly be seen. They are very through, even for those of us with little experience sewing.
The videos are broken down into bite sized chunks and include: an introduction,
sewing room set-up, tools, fa
bric, elastic, patterns, trouble shooting, stitches, hems, sergers, casing, tubes, strips, elastic, gathering, trimmings,
thread, sewing straight,
seams,
puff sleeves, frills, ribbing, collar,
buttons, bows, lace, ribbon, felt shapes, sequins, fastenings, button holes, and
cool tips
.
The instructional videos come with free patterns (18 inch, American Girl Doll sized), instructions, and videos to take you step by step through making the particular piece. The patterns can be downloaded and printed (We recommend printing the actual size and changing the shrink to fit option for your printer!).
The patterns are:
Pumpkin Costume
Sports Shorts
Crop Top
Frill Hat
Summer Nightgown
Underpants
Halter Top
Sarong
*You have the option of requesting patterns for Cabbage Patch Dolls instead by purchasing and sending Rosie an e-mail.
Additional Materials Required
sewing machine

sewing machine needles

fabric

thread

notions and trimmings: elastic, velcro, buttons,

ribbons, lace, and sequins

tools: t

ape measure, p

oint turner, r

otary blade, scissors, c

utting mat, i

ron and ironing board

paper for printing the pattern pieces and instructions
Time Frame
We watched the videos over lunch.
Each video is short, generally
around 5-12 minutes (some shorter).
Since I'm not an experienced sewer, I watched every video with the kids. We stretched one week worth of videos out over several weeks so that we could absorb the information.
Parents that have sewing experience would not have to watch the videos with their child, but there are some great tips that may be useful even to those experienced in sewing.
Although my sweets are a bit younger, 12-13 year olds with some experience could watch the videos and complete the projects with little assistance.
The girls decided that their dolls would like to watch the videos with us.
How it Went
Since we are all new to sewing, we worked on the sport short pattern for the review together. We broke the sewing down over two days so that we wouldn't be overwhelmed. Now that we have made a couple, I think I could manage making a pair in just an hour or two.
Ceesa was pretty independent. I would help her with the most difficult parts (like turning under an 1/8 inch hem). Jo-Jo needed more help, she's working on making straight stitches. We had a lot of starts and stops.
What We Liked
First, and mostly irrelevant, the girls love Rosie's accent. :)
The flexibility of replaying any part of the video is very convenient. Any time you need a reminder, you can just watch it again anytime from home.
I learned so much! I didn't even realize my sewing machine has a needle threader attachment. Oh the pain, I've gone through trying to thread my needle.
As we were finishing our sport shorts, the girls thought it would be so easy to change the pattern a bit to make skirts. I love when they can be creative with something new that we are learning. We may even make skirts before we go on to the next pattern.
I feel like I could even work on projects for the kids now that I understand more about how to put clothes together...maybe some summer shorts or church skirts.
Wishing you homeschool blessings,
Connect with us:
Click here
to read more reviews and great pictures of projects from my fellow Schoolhouse Review Crew.