Apologia
sent us
The Ultimate Homeschool Planner
to review. The planners come in 3 different colors: yellow, orange, and blue. We received the yellow cover.
What's Included
This spiral bound planner is filled with the pages to write in the information you need for planning. And there are lots of pages for inspiration and Biblical encouragement. At the beginning of the planner, there is lots of information:
a welcome letter from Debra Bell and Zan Tyler
user's guide with how to use the planing system, yearly planning retreat, monthly planning sessions, weekly planning breaks, tutorials and reviews
a one year planning grid
student goal setter
pre-planning grid
student goal setter
pre-planning guides (family priorities and resource list)
At the end of the planner, there is:
teaching tips: checklist for raising independent learners, motivating the reluctant learner, learning styles and thinking skills, and parents' guide to the study-smart student toolkit
high school planning guide
high school planning guide example
year in review
And in between:
There is a monthly planner,
a weekly planner,
pages to list character goals and academic goals for each child,
a place for you to list the week with your Bible Plan, Battle Plan, Prayers and Hospitality/Outreach,
a reading list chart and field trip document,
a planning guide for the high school years,
there are pockets in the front and back, and lovely Bible verses and inspirational quotes throughout.
My Experience
I generally begin each year by making individual typed pages for the kids for each school week with the readings assigned for the week and places to jot down their individual math, foreign language work, writing assignments, spelling/copywork, Bible readings, and poetry.
Then I make a special page of things that all of the kids will be doing monthly: hymn study, composer study, nature study, artist study, Bible memorization, and folk songs. I write in any changes that I need to make and then at the end of the year I copy the entire thing for all of the kids' portfolios.
Additionally, I have a page for writing down all of the extra things we do like our review products, experiments, field trips and projects. I copy this at the end of the year, too.
And that is the extent of my planning. Over the years, I have tried to eliminate writing on my part and do most of the work typing just once for all of them if at all possible.
I think I carried that over from my teaching years. I began using a planner that I hand wrote everything in, but when our lesson plans became more extensive, I began typing most information and only leaving blanks for the details that changed daily.
So with The Ultimate Homeschool Planner, I am back to hand writing plans for our review. I haven't abandoned my typed plans, but also have given this a try.
You'll have to excuse my handwriting. It is rather messy. :)
While I still find I prefer my typed notes, I think this planner offers something far more valuable then just filling out plans for the week or month. Included with each weekly planner is a section for you to write out your Bible plan, Battle Plan with a fighter verse, prayers, and hospitality/outreach for the year.
I find this a true encouragement to homeschooling and a worthwhile task.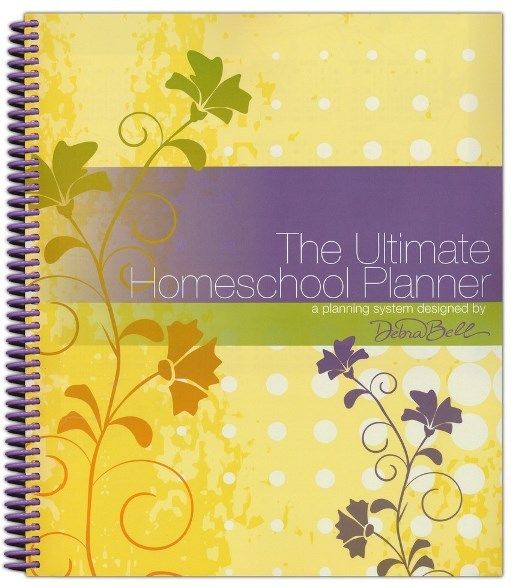 Wishing you homeschool blessings,

Click here
to read more reviews from Schoolhouse Review Crew.