Star Toaster
sent us a subscription to
Orphs of the Woodlands
for Ceesa to review.
First Thoughts
Ceesa was super excited to try this one out after watching the
video
(and she wasn't disappointed). She has a favorite quote..."If you think you can or you think you can't, you are right." and she looks forward to playing it all of the time.
What is it?
The Treasure of HighTower is interactive, online, and the first book for the Orphs of the Woodlands series. But it is also more than that. A game is interwoven within the story and kids are encouraged to try out hands-on extras. Subscriptions are for two months and allow for access for up to three children (one-month extensions are available). It is recommended for grades 4-7.
The story is based on a gray squirrel (Ceesa named him Squirrel Twitters) who has been orphaned by Night Creatures. He is not the only one. There are many other Orphaned Critters or orphs in the forest as well. While Squirrel Twitters hopes to fight the Night Creatures, he finds another mission, to care for an entire settlement of orphs, to become a spy for the WAK Underground, and to locate the treasure of HighTower before the Night Creatures find it.
Within the story there are places that are highlighted that your child can scroll over to learn more information (called rollovers). Some of them include information about the characters for the spy folder, vocabulary, recipes, and more facts. There are places to click on that provide letters from the characters too.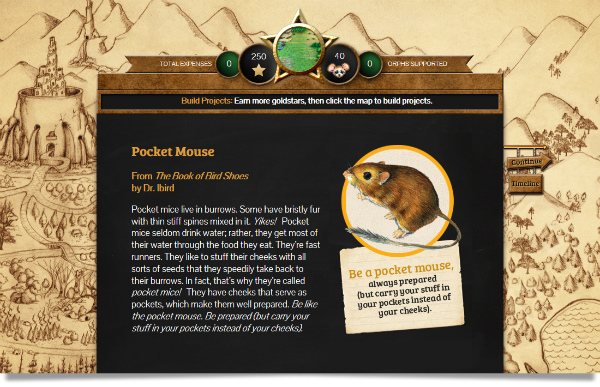 After each chapter, the games begin. The goal is to rescue as many orphs as possible. Your child visits Ivythwaite and builds a settlement for the orphs.
Professor Forp teaches math and science lessons to your child through interactive videos. Ceesa says, "The most important thing to remember is that he never repeats himself. His lessons are funny. He tells lots of jokes. His lessons are easy to listen to and understand."
After watching Professor Forp, your child begins jobs. The jobs are organized into categories: Math, Science, Language, Vocabulary, Thinking Skills, The Arts, Character, and Life Skills. Ceesa says she always starts each time with Thinking Skills. It is her favorite. Children earn gold starts by completing jobs.
With the gold stars, your child can rescue orphs and support them. Your child chooses how to support them by providing needs: food, water, clothing, medicine, defense, and energy. If enough stars are not maintained, the orphs can disappear.
Your child gets to become a spy for the WAK Underground and develop TOP SECRET spy files.

There are lots of ideas that allow your child to work on hands-on projects. These projects are not required, but provide lots of opportunities to practice what she has learned in real life situations. Materials for these activities are easily obtained and are optional.
Making Mouse Tail Soup (You can use pasta in place of the mouse tails!)
Using disappearing ink
Determining the height of the trees
Our Experience
Ceesa worked on the program about 3 times a week. We used it as an after school work reward. She would read a chapter and then complete jobs (usually about 45 minutes at a time). Generally, Jo-Jo would come up close to watch Ceesa play the game.
I like how important skills and information are combined within a fun, action-packed story. Initially, I had some concern about the Night Creatures, but they are only described as things of whom everyone is afraid.
Ceesa says, "The best part of the story is when Squirrel Twitters rescues orphs and when he runs into the Night Creatures."
Recommendation
Star Toaster is offering a free trial so you can read the beginning of the book and do the first lessons for free. We'd recommend giving it a try! It is great to use in addition to your curriculum, for summer reading, and as a reward.
Future
Ceesa is almost finished with The Treasure of HighTower and Jo-Jo will be starting the book this summer. We can't wait to see the new book that is coming out next!
Wishing you homeschool blessings,