Kinder Cottage Publishing sent us Peter Rabbit at the Farm ($4.00) and Peter Rabbit's Birthday ($4.00) from their Peter Rabbit series, which has 10 in all, to review. This series of books is ideal for ages 3-9.
These books have been
adapted and re-published by Kinder Cottage. They
come from a series originally written by Duff Graham and published by the
Henry Altemus Company in the early 1900's. Each book is a
5" by 7" hardback book with approximately 64 pages.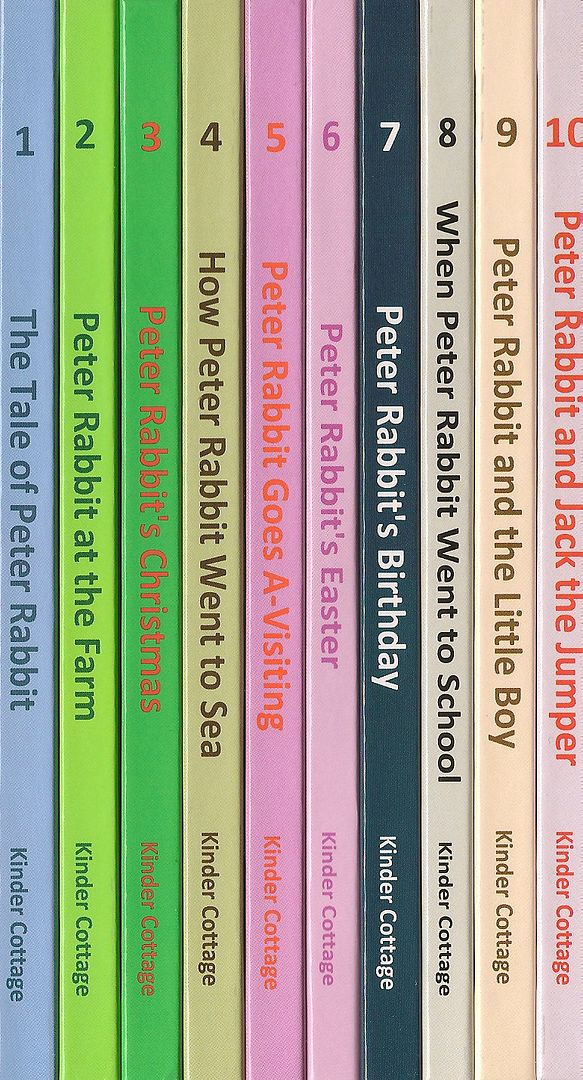 Peter Rabbit at the Farm is the second book in the series. Peter decides that he is going to get into mischief and sneaks off from home. When he comes upon Little Goosie Poosie crying, he decides to help solve the problem. But a farm isn't the place for Peter. It seems there's a heap of trouble at every turn. By the time he arrives home, he is so exhausted he doesn't even stay awake long enough to promise his mother he won't run away again.
Peter Rabbit's Birthday is the seventh book in the series. Peter is trying to be a well behaved boy, so that he will have a birthday party. But it truly does seem to be hard for Peter. He makes it through the night, but trouble soon follows in the morning and he almost misses his party. He makes it, with the help of a friend,
just in time to enjoy his
cake
.
Our Experience
When this review came up I originally wasn't quite sure which ones from the series to choose, so I told Li to pick. He chose his two favorites from the list, "birthday" and "farm."
When they arrived, he wanted to look through them right away and kept asking for me to read them to him. When I could sit down to read them, I read to both of the boys, one book at a time, on different days (One of the books, the little babe, Wheel, listened to all of the way through).
One morning, I was wondering where Jo-Jo and Li had gotten to. My search revealed them cuddled on the sofa with Jo-Jo reading the books to him.
Anytime I had them in my hand, Li wanted them and was very unhappy when I told him that I was using them.
What Li has to say
"I like these for bedtime stories. They are my books." He even made up a song with Peter Rabbit in it.
What I Think
We read lots of classics and love the language and moral character of stories at the turn of the century.
Wishlist
While the illustrations are the same as the original series, I would like them to be clearer. There seems to be a grainy quality to them, which in my research isn't in the originals.
The text has been adapted from the original version. Generally, we read the original versions of classics. If there is a word that we do not know, we look it up.
Recommendation
Kinder Cottage is offering a
20% discount off the product price on their website
for our readers. Enter coupon code TOS to receive the discount.
Wishing you homeschool blessings,
Connect with us:
Click here
to read more reviews from Schoolhouse Review Crew.