God's World News recently sent us
God's Big World
,
a magazine designed for
PreK to Kindergarten.
The emphasis is on "news, knowledge, and wisdom" from a Biblical stance.
We received a year subscription ($28.00) and they included a complementary subscription to World (for adults) and access to the digital versions of their kid's magazines (God's Big World, Early Edition, News Flash, News Current, Top Story, and Trak). If you're counting, that's a lot of bonus!

What's in a Subscription
God's Big World yearly subscription includes:
10 issues (excludes December and May) with stories appropriate for ages 3-5 (although my older kids like them too!)

You MAP-IT!: A large world map (20" x 30") typically sent in September that corresponds to small maps in the magazine.
A membership to kids.wng.org, where you'll find the digital version of your magazine (accessible from the internet, digital devices, podcast, and iPad).

Email newsletter, Teaching God's World News, sent weekly that includes answer keys to the quizzes, puzzles, and activities and links to additional content like biographies and extended pdf news lessons for science, history, geography, worldview and other subjects.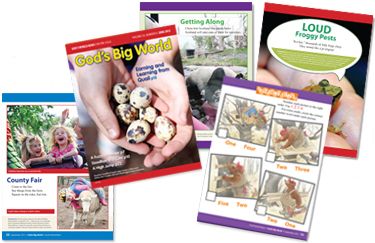 What's in God's Big World
Each magazine has 24 pages per issue and contains
lots of pictures in color and sections that can be read by the child (if reading) and Read to Me sections to be read by the parents. Teaching Tips give parents more detailed information and Bible2Life gives Biblical encouragement. You will also find Bible versus throughout the magazine.
There are suggested activities, maps, and educational puzzles: crosswords, coloring activities, mazes, picture matches, find the differences, counting and mathematical concepts, alphabet games and writing, and chronological order.
Each magazine has interesting topics: medical advancements, intriguing people, fascinating places, remarkable events, and new discoveries.
God's World News Kids
The website supports the magazine and was newly launched in September. It is broken into sections:
MySci, Creation, Time Machine, People/Places, Know Me?, and Fun Stuff.
Articles from the magazine can be found in the sections:
MySci, Creation, Time Machine, and People/Places. The activities are in the Fun Stuff section and Know Me? has interesting biographies.
Additional Materials Required
You really don't need additional materials to read the magazine. Just a comfy place to sit. However, to completed the activities and puzzles we'd recommend:
pencil or other writing device
crayons
materials required for the activities; this varies and depends on the activity
Time Frame
Little Man's attention span is growing, but he has always been able to listen for long time spans when someone is reading to him. The first time we received one of the
God's Big World
magazines, we spent about 10-15 minutes reading through the entire thing. It was very easy for him to pay attention to the stories. I would even read the extra information for parents to him.
How we Used it
When we get a new magazine, I pull Little Man into my lap and we read the stories together. He hasn't shown much interest in the activities or puzzles (he's young yet for "school work"), but once we've read the stories Ceesa and Jo-Jo take it and start in on them.
Lots of times I would find one of the kids flipping through the magazine again, re-reading the stories.
What I Think
The news is depressing and lots of times full of nightmares. I try not to read much or watch much on television. Poppa fills me in on what I really need to know about. What I like about God's World News is that the stories are not full of drama (shoot outs and heartbreak). Instead it looks at real stories, of real people from a Biblical viewpoint. I like that I can share the stories with the kids without worrying what they will be exposed to by reading.
Recommendation
This magazine has actually been on my wish list for quite some time. I would recommend it for those families that would like their children to learn about current events in a way that shares God's world with them.
Wishing you homeschool blessings,
Connect with us:
Click here
to read more reviews from Schoolhouse Review Crew.