When I was pregnant with Wheel (my fourth baby), I knew all too well how difficult it was to prepare meals around homeschooling and nursing a newborn. So I decided I would freeze three months worth of dinners so that I could easily put dinner on the table and spend my extra time with the older kids and not in the kitchen. I wish I would have been able to use
MyFreezEasy
back then. I spent hours collecting the recipes and making the lists that the
MyFreezEasy.com Freezer Meal Plan Membership
does in minutes. However, now that the girls are getting older and we have addition commitments on our time, I am very thankful that we have been given the Premium Annual Membership to review now.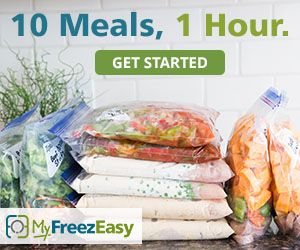 MyFreezEasy is a membership based, online monthly freezer cooking meal strategy. The plans are printable downloads (immediately available) with recipes, shopping lists, assembly notes, assembly instruction (be recipe and by ingredient), videos, and labels. There is a Basic and a Premium Membership available.
To make putting the meals together fast (like 10 meals in an hour or less) easy, there are assembly videos. The video offers basic strategies, featured recipe information, how to cook them after they've been frozen, and cooking tips.
In the Premium plan, there are 8 new meal plans every month: all chicken meal plan, all ground beef recipes, all pork chops, traditional meal plan, gluten free plan, slow cooker meal plan, clean eats plan, and 20 meals plan. You can also use the meal plan builder to customize five recipes that you want to try. Although keep in mind, your meals will take a bit longer to prep since they are not specifically designed to be completed in an hour like the other 8 plans.
The website has lots of information and support to help you be a freezer meal success. You will find this month's meal plans, recipe swap, build a new meal plan from scratch, video library, how to use instructions, e-cookbook with side dish ideas, and a step-by-step look at how to use the meal plan builder tool.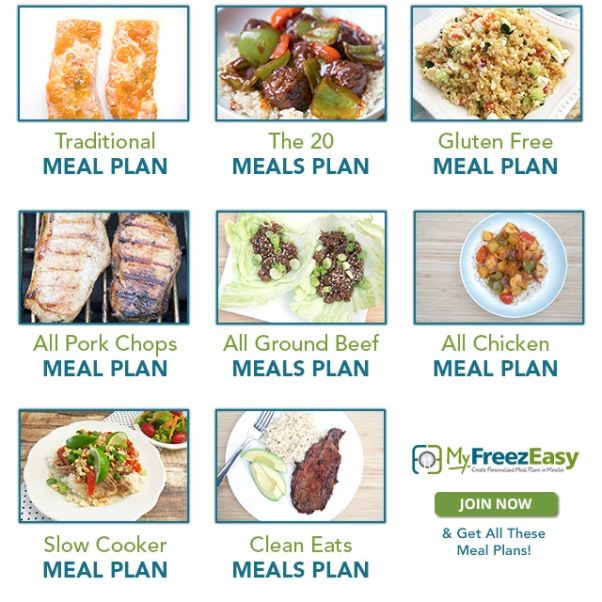 To begin you either print off the meal plans that are already made or you customize your own plan with the meal plan builder and print it. Take your shopping list to the store to purchase what you need. There are four lists: by recipe with sides and without and by store section/category with sides and without.
Then it is off to the store and home again.
Once you have your ingredients on hand, you can choose to make a single meal right then or you can start the freezer meal process. The recipe card gives instructions for cooking from scratch and from your freezer so you have both options.
You can use the assembly instructions to prepare what is necessary ahead of time.
You can choose to assemble by individual recipe as well.
I have learned a few things when making freezer meals that I want to share with you that will make your freezer meal work much smoother. Be sure to watch the videos for more tips each month.
I always use a pitcher to hold my plastic bags up so that they can be filled quickly with less mess.
To avoid tears when slicing an onion, cut the entire thing in half and then cut into long slices. You can see this in the picture below. You then dice the entire half very quickly. You can chop several onions this way in just a few minutes.
I like to make the homemade things and meat the day before or earlier in the day from when I put my finished meals together. To brown large amounts of beef, you can put it in the roaster in the oven or in the crock pot. Every 5-10 minutes just remember to use a turner like you would in a skillet. I also like to make my spaghetti sauce and white cream soups from scratch. Doing this ahead saves a lot of time on my feet.
We decided to put together our own meals from the meal plan builder. I ended up printing off 15 recipes to try.
Since we used the meal plan builder, we ended up with the following mix of recipes:
Baked Swedish Meatballs: I took these to a Wild Game Dinner and the dish was completely empty.
Basil Balsamic Chicken: This meal I made from scratch. It was so easy to put together, I just did it one night very fast.
Lazy Lasagna Bake: We had this meal when we had been at the fair all day. I popped it in the oven when we got home while everyone was taking showers. This was a favorite meal for our family.
Swirly Taco Pasta Skillet: We had this meal when we had a couple of little guests over. When our guests are here, I am very busy helping one of them with a medical condition, so it was no stress on a busy day. Poppa really like this one.
Upside Down Nacho Skillet: This one is going on for dinner tonight!
New Mexican Chicken Lettuce Wraps: We ended up make a salad instead of wrapping with lettuce. This was very good.
Slow Cooker Butter Chicken: We had this one night when we were expecting company
Slow Cooker Cheeseburger Soup: I took this to our church picnic and had lots of compliments on it.
Slow Cooker Chili Mac: Poppa received an award on evening, so I threw this in the crock pot for the kids and the babysitter for while we were gone. They all said it was very good.
Slow Cooker Italian Beef Sandwiches: This one is ready in the freezer.
Slow Cooker Pork Chops with Apples and Sweet Potatoes: The kids didn't really like this one very much, but they don't like sweet potatoes. Poppa liked it just fine.
This is on my list for the next free day I have to get into the freezer.
Slow Cooker Been Stroganoff
Slow Cooker Mongolian Beef
Slow Cooker Spanish Rice
Slow Cooker Sweet and Sour Meatballs
Greek Chicken Bake
Swirly Taco Pasta Skillet
The meals came in extremely handy. I found that they made dinner so much faster for Sundays (which are so busy with church, youth group, and other activities), potlucks, days we are on field trips, and days where I'm just too busy to do much thinking about or preparation for dinner. My favorites are the crock pot meals. I just defrost them the night before in the fridge and pop them into the crock pot before we walk out of the door for the day.
My goal is to find several meals that we can use on camping trips. I like to use the crock pot to come up with dinner without stress when we camp because usually we are out exploring all day and I don't want the hassle of working on a full meal when we get home and I'm exhausted after a busy day.
We recommend that you check out the video near the bottom of the
FAQ Page
for more information.
Wishing you homeschool blessings,
Click here
to read more reviews from
Homeschool
Review Crew.