Standard Deviants Accelerate gave us access to their online Homeschool Courses to review. Standard Deviants have been creating education videos for a long time (over 20 years) and have taken their quick wit and humor to the digital world. The program can be used on computers and handheld devices (we used our lap top, phones and mini to access the program). Each of the SDA videos has a written transcript to go along with it, text boxes for taking notes, vocabulary, diagram activity, quiz, and written answer questions.
In addition to courses, they offer AP test prep for high school students. The AP sections contain a chapter intro, tips for taking the test and writing free response answers, videos (with similar components to the regular course videos), and a chapter review.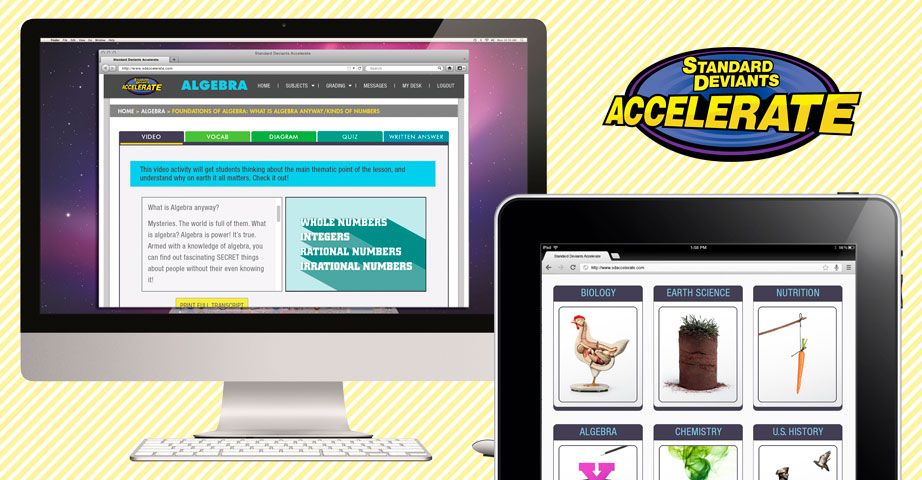 The Videos
Well, Hello 80's. Who let you out?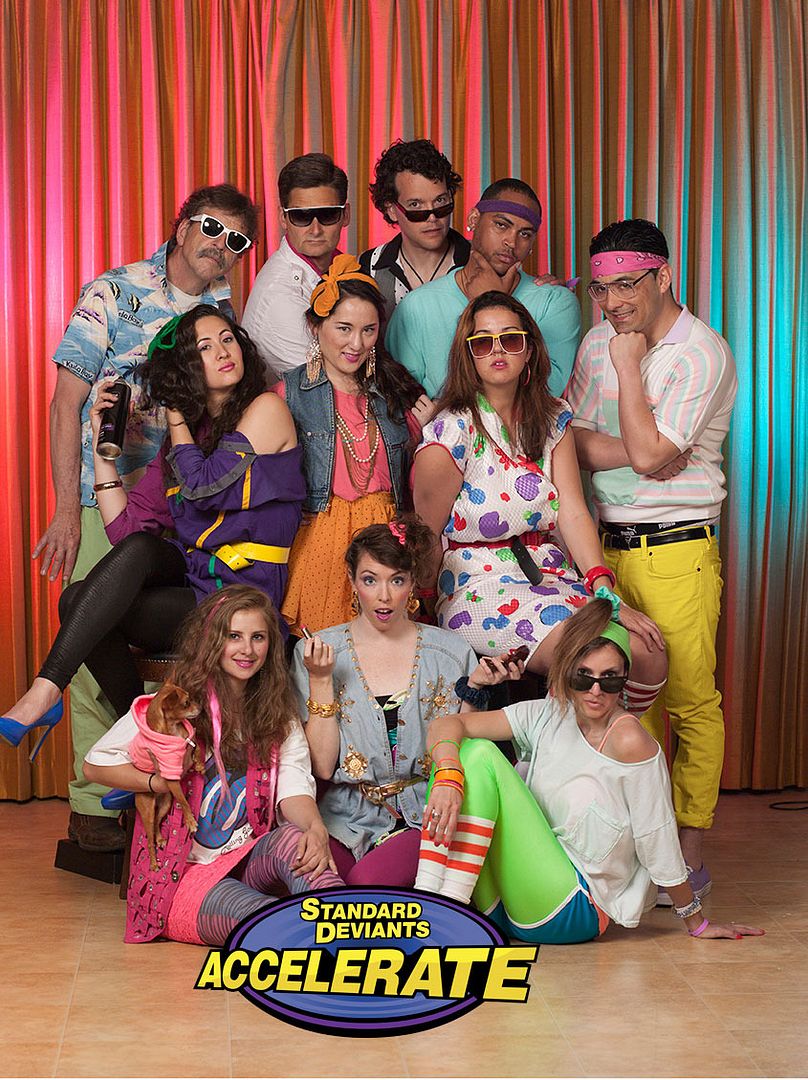 Okay so really, it's just for fun, they really don't generally teach in 80's stuff. The videos are quirky and quick-paced. Lots of information is provided with plenty of visual snippets along the way. The video scripts themselves are written by professionals and then acted out by the cast of teens and young adults.
There are videos in the following areas:
~Elementary
Arithmetic (grades 3+)
Fundamental Math (grades 4+)
~Middle School
Earth Science (grades 6+)
Nutrition (grades 6+)
Biology (grades 7+)
Algebra (grades 7+)
~High School: these course can be used as supplements or concise full year curriculum components
Chemistry (grades 9+)
English Comp (grades 9+)
U. S. History (grades 9+)
~Test Prep for High School
AP Biology (grades 11+)
AP Chemistry (grades 11+)
AP U. S. Gov. & Politics (grades 11+)
AP Eng. Composition (grades 11+)
When you click on a video subject, a menu comes up with a list of topics. Under each topic is a numbered list of videos that build on one another. Each topic has a chapter review to culminate the learning. You are not limited to watching the videos in order; however, but you may instead pick and choose which to watch or which to skip.
Interactives
Below are samples of screens you and your child will see in the program...
From top to bottom and left to right...
1) This is the main screen with the video, transcript, and text box for notes.
2) This is a sample of the quizzes that are available. Questions in this section are multiple choice type questions. There are also the written answer questions that are comprehensive and require your student to compose complete answers of his/her own. The quizzes can be printed.
3) This an example of the diagram activity. These are diagrams and charts that you use by dragging and dropping the correct answers into the boxes provided.
4) Finally, there are progress reports that the parent can access to see what the child is doing. The child can message the parent for help. And while the quizzes are automatically graded, the written answer are not. There is a rubric provided for the parent to assess them with and it can be edited.
Not pictured here is the vocab section. It contains terms (that can be clicked on to be said aloud) with definitions.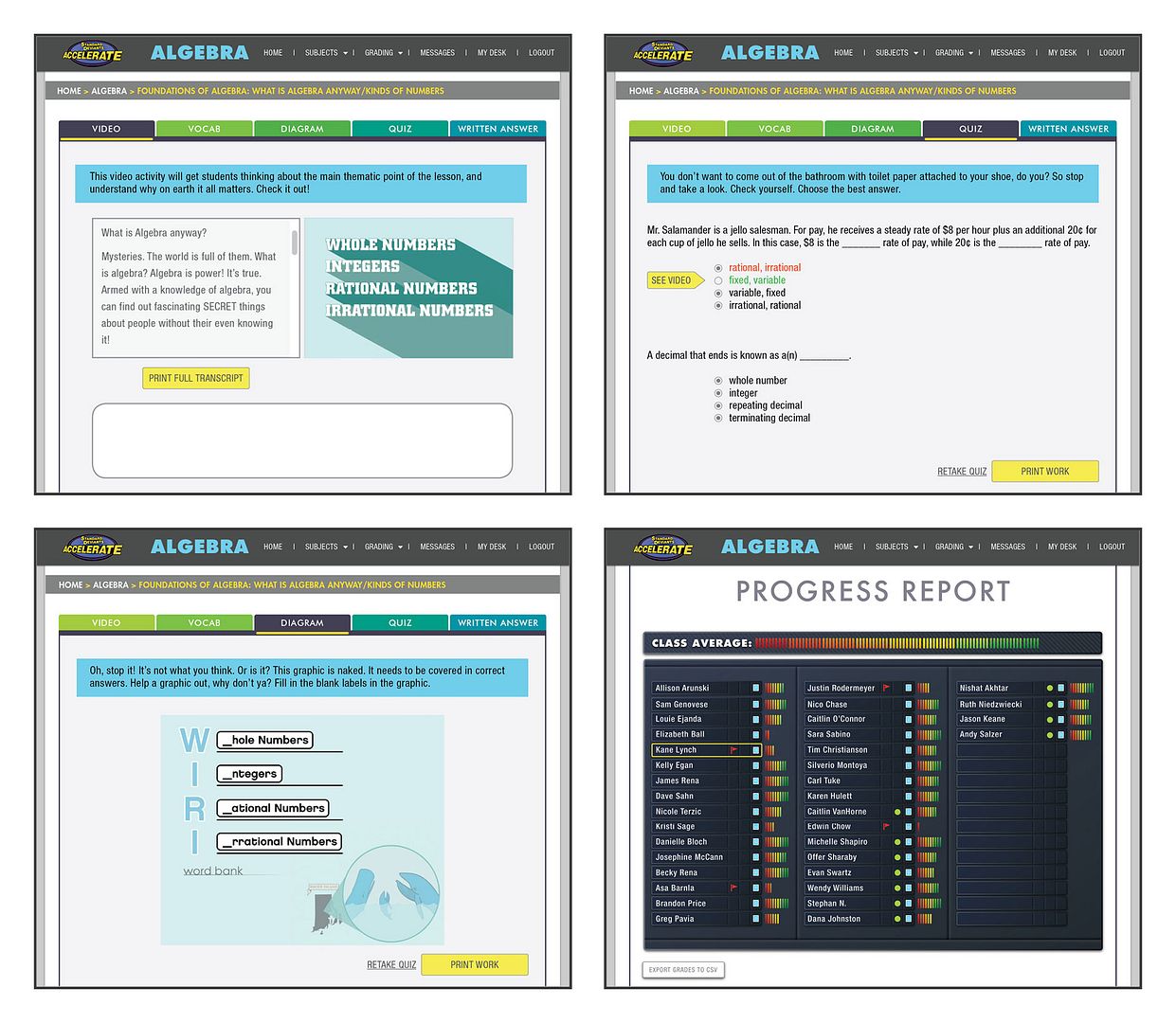 Our Experience
We choose to dabble in the different areas that sparked our interest. We worked in the courses for Nutrition, Biology, and Earth Science. Ceesa and Jo-Jo worked specifically on different components, but the boys are always ready to watch a video. Each session from watching the video to completing all assignments ran from about 30-45 minutes.
"
I like that the videos are easy to understand and they have fun illustrations with definitions of words
." ~Ceesa
The girls have a club that they attend and give presentations monthly. This month we settled on Nutrition. We decided to use the information they learned in a few of their videos to put some information together to share. Ceesa chose to use the video for Fruits and Vegetables. She is taking apples and carrots for the audience to taste to compare the differences between sweet and savory.
Jo-Jo decided to talk about the information provided in What is Nutrition? She created a chart to help explain how nutrition is the study of people's maintenance of their relationship to the sun.
Both girls took notes and presented for me before the club met.
Special Note
The Biology course teaches the theory of Evolution and the Earth Science course teaches the Big Bang Theory. Although, we are creationists, we choose to watch a few of those in the evolution series. We found that the evolution presented (particularly in "Evolution in Action." was actually micro-evolution, which is basically explaining how environmental factors, genes, and migration of people groups influence the characteristics present in people and animals. Although, this is easily understood, it in no way is macro-evolution (changing from one species to another or from an amoeba in the ocean all of the way to man).
We actually used this video to determine how the two were different and how the if/than reasoning is actually a fallacy. Some of the other videos, I found to provide good examples of how we can defend our faith in creationism based on these theories.
So although, these videos are from an evolutionary stand point, as creationists, we found many opportunities to apply logic to the information presented to enhance our learning and our case for faith.
Recommendation
We recommend this for families that have kids that are motivated by the computer, watching videos, and completing work on the computer.

Wishing you homeschool blessings,

Click here
to read more reviews from Schoolhouse Review Crew. See what others had to say about the AP courses! *Our review was in the Top Ten on pinterest!! To see all ten click here.