Ceesa has read each of the books in the Little House Series several times, the Rose years, the Caroline years, Laura's diary of Almanzo, Rose, and her travels, and letters from Laura to Almanzo while she was in California with Rose. Needless to say The Little House Series is a favorite around here.
So I was really excited to get to review Little House on the Prairie: The Legacy of Laura Ingalls Wilder ($24.95) from Dean Butler with Legacy Documentaries.

About the DVD
Dean Butler

, the actor who played Almanzo Wilder in the TV series, produced this DVD with Legacy Documentaries using photographs, artwork of the time period, reenactors, interviews, and the setting of several places that were scenes from Laura's books.
The documentary mostly focuses on her adult life as a wife, mother, and writer, her early married life, their lives in
Mansfield, Missouri, her
work as a newspaper columnist, her relationship with
her daughter Rose, and about the things that motivated and influenced her writing.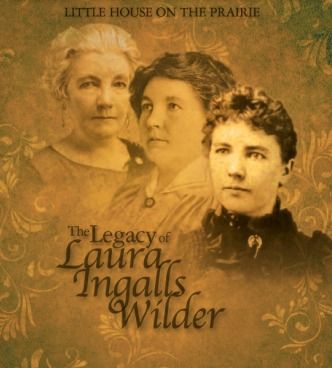 What's Included
The documentary is 75 minutes and we'd recommend it for ages 8 and up. Here's a trailer...
It includes bonus footage: Director's Diary (Dean Butler discusses details of making the DVD), Almanzo Wilder: Life Before Laura trailer (Almanzo's early life) and Pa's Fiddle: The Music of America (songs Pa would have played on his fiddle performed by various artists)
.
How we used it
We watched the DVD all piled on the couch. Something that we learned after
we watched the DVD was in the special features. We discovered that the actors and actresses were reenactors that live in the areas where Laura grew up and that a lot of the footage was shot in the actual places she grew up. We didn't realize this while watching the documentary.
My Thoughts
While the DVD was very informative, I was expecting something a little different and found from all of our reading we knew quite a bit of the information that was provided.
What Ceesa had to say
Ceesa liked the reenacting and she would have liked to have seen more of it throughout the documentary. She really likes all things Laura, but she didn't rank this video very high on her list. I think mostly because she is interested in Laura's life growing up with Pa and Ma and Mary, Carrie, and Grace. Since this DVD is based on her adult life, she wasn't as excited about it as I thought she might be.
Wishlist
Although many of the locations that Laura lived were depicted in the movie, I would love to see more information on the places themselves: terrain, homes, roads, maps of travels, historic sites, what life was like in that town, what was happening during that time, what impact did it have on Laura's family, and what homes still stand.
Future
We would really like to check out Pa's Fiddle. We love to listen to folk music and knowing that the artists were playing some of the same songs that Laura grew up listening to makes it even more meaningful.
Wishing you homeschool blessings,