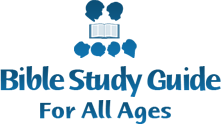 About the Curriculum
The entire program is recommended for Sunday Schools, homeschools, Bible classes, and family devotionals. There are 416 lessons with four levels: beginner (3 years-kindergarten), primary (grades 1-2), intermediate (grades 3-4), and advanced (5-6). All of the lessons are correlated so that all students can be working together regardless of their age.
The Intermediate Level and Advanced Level Student Pages have scripture references, interactive Bible lessons with cartoon style pictures, comprehension questions, long and short-term review drills, facts for more information, memory work, maps, time lines, put it into action sections, and application activities.
Jo-Jo used the Intermediate Level Student Pages. She found them to be fun and she liked them because she knew many of the people she was studying.
Intermediate Level Student Pages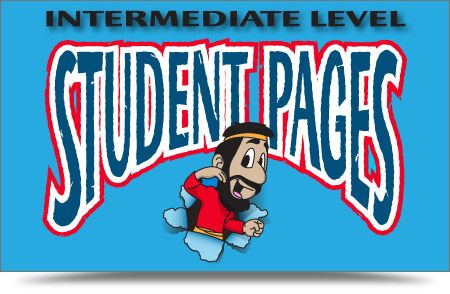 The Intermediate Level Student Pages are $5.95 for 26 lesson sheets for grades 3-4 grade.
Ceesa used the Advanced Level Student Pages. She reports that she enjoyed drawing with them. Her favorite section was Discover the Bible because it had more activities.
Advanced Level Student Pages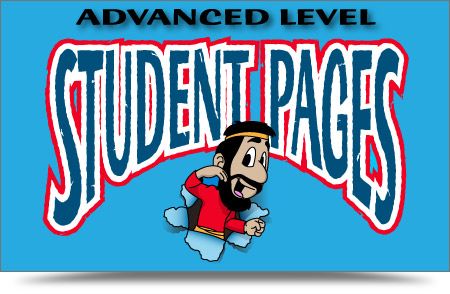 The Advanced Level Student Pages are $5.95 for 26 lesson sheets for grades 5-6 grade.
Bible Book Summary Cards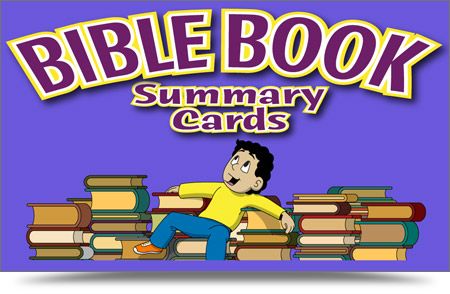 The Bible Book Summary Cards ($24.95)are 8.5" x 11" full color images on tag board for all 66 Bible books. Each flash card has a picture or group of pictures on the front that summarizes the content of the book or the message. On the back, there is a written summary of the pictures and questions for review. These cards are designed to work through their entire program 3 years-6th grade.
Ceesa says the cards give a lot of information and the pictures on the front are colorful. They really explain what is in each book.
Jo-Jo says, "I like that the cards have the pictures on the front. It is easy to understand the details."
How we used it:
The girls would do all of their lessons together. They would take turns reading the scripture referenced. Then they would work independently on their own pages. Since everything is correlated, they could complete their work talking about any difficulties they were having together.
I really had to do very little to help them. They even used the cards on their own asking one another the questions.
Each lesson took them about 30 minutes (give or take 5 ) to complete.
My Thoughts
I like how these lessons encourage kids to go right to the source. The Bible stories are not retold, but the scripture reading is set out for them to go to their own Bibles.

Additionally the time lines, maps, and historical information really draws the learning together.
Future Use
I will be picking up the girl's Sunday School class very soon and we will be using these during that time.
Recommendation
Although, we did not revie

w the Unlabeled Wall Maps and Timeline or the Children's Songs CD Set, I will be purchasing them for our Sunday School class. When the girls got to those sections, they very much wanted to sing the songs and do the additional work. We are planning to get the beginner level for Little Man, too.
Wishing you homeschool blessings,
Click here
to read more reviews from Schoolhouse Review Crew.