Baker Publishing Group
sent us
Life with Lily
and
A New Home for Lily
($12.99 for each paperback title) recommended for ages 8-12.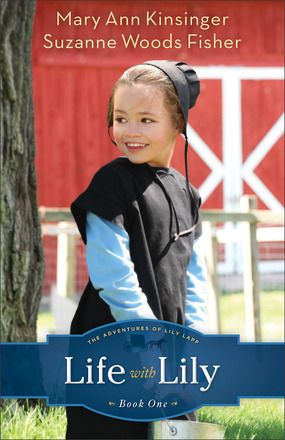 Lily is a 6-year-old girl living in Old Order Amish society (she has her sixth birthday during the story). Many of the stories are taken from when one of the authors (Mary Ann Kinsinger) was a girl. Lily is an adorable little girl with a personality not much different from my girl that is about the same age.
The story starts out with Lily being whisked away to her grandparents farm in the middle of the night. When her father leaves, she is worried that something is terribly wrong. She vows that she won't fall asleep. Before she knows it,
the sun is peeping through the curtains. (This scenario of vowing to stay awake is a pattern of Lily's that leaves my girls laughing every time.)
When her father arrives in the morning, he brings great news...a new baby brother has been born. When Lily first sees him, he is anything but cute. And brothers in general can be more than Lily bargains for, especially when they jump off the roof of the barn while trying to fly.
We loved reading about the troubles of knowing Mandy Mast (how she cruelly walked baby Dannie through the nettles or when she caught the school children's playhouse on fire). I think everyone knows a Mandy Mast.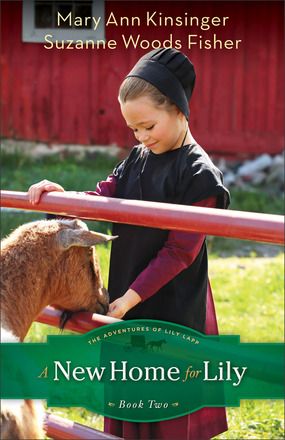 A New Home for Lily finds Lily leaving her home on Singing Tree Farm to move to the ugly, olive green house with orange counter tops so bright that it hurts her eyes. Although it is a difficult time adjusting for Lily, she makes friends and starts to settle in.
Although freed from Mandy Mast there are new villains to take her place, Aaron Yoder and Effie Kauffman. Aaron has never been kind to Lily and Effie thinks she is better than everyone, especially Lily.
I will admit that this book broke my heart a little...
" 'It's tradition,' she said.
Mama sighed. 'We don't question why...' "
Our family sees this over and over as we live next door to an Old Order Amish couple. Over the years, we've spent lots of time with them. Learning about the culture and belief system. Ceesa especially is always asking, "Why?" of Anna. Who always answers..."Why? That's just the way it is." Neither Ceesa's heart or my own can be content with that, so we spend a lot of time talking about it.
Sacrifice and giving are definitely in my children's vocabulary. But when Lily couldn't strum the guitar or keep her doll, my own why's spill out. Maybe that's the homeschooler in me..."Why do we have to do it that way?" is a question that I frequently ask.
We read these as our bedtime story. Sometimes Poppa would read a couple of chapters and sometimes Momma, and sometimes Ceesa, but we all listened in.
The girls really enjoyed learning more about the Amish culture and hearing from a child about their ages.
My girls dressed in an old order Amish dress in our area.
Made by our Amish neighbor.
You can visit the website Adventures of Lily Lapp for
recipes, quizzes, coloring pages, a crossword puzzle, a word scramble, and word searches.
The Third book is called A Big Year for Lily and a fourth coming soon...A Surprise for Lily. Poppa would like us to get them, too.
I plan to share the Lily books with our neighbor to see what she thinks, too.
Wishing you homeschool blessings,
Click here
to read more reviews from Schoolhouse Review Crew.